How exacting planning and rigorous controls have helped ensure the success of one RC Al Mana's most prestigious construction projects to date.
RC Al Mana's Doha Oasis in Musheireb is one of the company's most ambitious undertakings yet, with completion scheduled to coincide with the 2022 FIFA World Cup in Qatar.
However, like its host country's preparations for the biggest sporting event in the world, RC Al Mana has had to face – and successfully overcome – many challenges on its path to achievement with this construction project.
The Doha Oasis site covers 460,000m2 of built environment in a plot area of 73,000m2. It features an iconic elliptically shaped main building, with high end residences and apartments, many with a stunning view of West Bay. Doha Oasis also includes a Themed Experience Centre (TEC) with the world's largest indoor roller coaster, plus a hotel, commercial and retail spaces and more.

Key measures
Like all large-scale projects, this mixed-use development required careful preparation, so the RC Al Mana team took several key measures to coordinate the design and engineering process.
The first step was to set up effective communication channels between RC Al Mana and external contractors at several locations – such as the design firm Nabil Gholam Architects in Lebanon – and other technical stakeholders such as AECOM, as well as Qatar subcontractors like Qatar Technical Aluminium (QTA), Qatar Electro Mechanical Group (QEMG), Conspel and IMAR.
A RACI chart / responsibility matrix was developed by RC Al Mana's team to manage all stakeholder needs and expectations efficiently (RACI is a project management acronym that stands for Responsible, Accountable, Consulted and Informed).
To compensate for different time zones, digital video conferencing tools such as Zoom and MS Teams were used and meetings scheduled at times suitable to all. The team also developed a change management plan to manage, monitor and control all scope changes requested and implemented in the design process, as the project progressed.

Experienced technical staff were allocated to provide on time technical submissions and a Technical Design Coordinator / Architect was assigned to manage and control subcontractor submittals, from submission through to the approval stage, by the design supervision consultant.
RC Al Mana formulated a detailed Work Breakdown Structure (WBS) to ensure proper implementation of the Procurement Plan. The team also finalised Multiple Work Packages, to allow for simultaneous work to commence in parallel by multiple teams.
These included structural and architectural finishes, MEP, ELV and interior design, as well as preparation for the theme park rides and other special construction considerations unique to the expansive Doha Oasis project.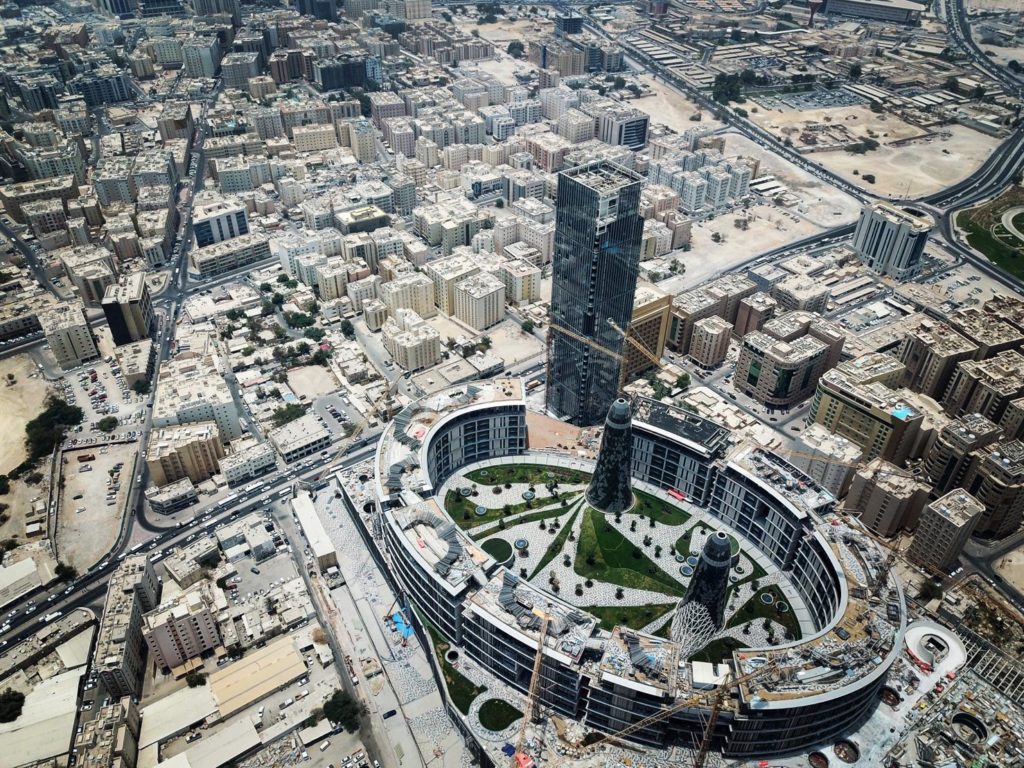 Quality and on time delivery
To ensure the quality and on time delivery of special construction requirements, such as specific materials for the TEC from different parts of the world, weekly procurement meetings were held to monitor fabrication and delivery status. Regular factory visits were also scheduled to check the quality and to monitor the delivery of materials.
To manage logistics constraints, RC Al Mana's team prepared a detailed logistics plan, which was adjusted as the project progressed. This included off site storage for special materials, to be delivered when required. To manage the complex works packages, full project scope was identified as per the Work Breakdown Structure and progress was monitored to ensure all activities were completed as planned.
Nominated contractors were assigned by the Client in all specialty works and weekly progress meetings were conducted to resolve all site issues constraining the site's progress.
The rigorous processes set up by RC Al Mana for the Doha Oasis construction project have enabled the team to identify and deal with several major obstacles to deliver this outstanding project.
Thanks to intricate planning and execution overall, nothing has been overlooked in the construction of Doha Oasis, ensuring that RC Al Mana's prestigious landmark project will be one of the most successful of its kind, to be enjoyed and admired in Qatar for decades to come.
Find out more about this unique and extraordinary high-end mixed-use development here.